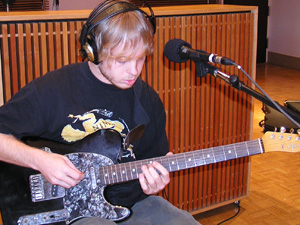 The Blue Note in Columbia, MO is much like a small theater. With a balcony, and a stage complete with all the dressings, it is a very cool place to see a show. On April 12, Someone Still Loves You Boris Yeltsin played an outstanding set comprising many songs off their new album,
Pershing
. After the show, guitarist, Will Knauer was cool enough to spend some time with Moustache Salad and tell us what 
Pershing
, Nirvana, and
Wayne's World
 had in common.
(Disclaimer: All sentences and responses are paraphrased because Moustache Salad does not own a tape recorder)
Will Knauer:
            Age: 24
            Favorite Animal: Great blue whale
            Cats' Names: Fasco, Fiasco, Disaster, Clovis, Toonces
            Guitarist for Someone Still Loves You Boris Yeltsin
Moustache Salad: What was your main inspiration for Pershing?

Will Knauer: We had one goal in mind; to make a really fun record that you could listen to in the spring with your windows down.

MS: We noticed an additional member of the band on stage tonight. Who is he, and is he a permanent addition?

WK: Yeah, he's playing with us on this tour right now. He's the keyboardist in a local band [from Springfield, MO] called Southern Hills. He's not a new band member, but he'll be playing with us at all our shows this year.
MS: What's your favorite venue to play?
WK: We're really huge in D.C. for some reason, no idea why. Columbia's pretty fun too since it's so close to where we're from. Our first gig outta Springfield was actually here in Columbia at Mojo's.

MS: Pershing has a more polished sound than your previous album. What were different in recording your follow up?

WK: This time we had Jonathan James (drummer/bassist) play with us a lot more where as last time he wasn't around too much. We had nicer things this time too. For "Broom" we were pretty much just working with stuff I had gotten as a kid. Pershing is a lot more technically proficient.
MS: How has your move to Polyvinyl been?

WK: Oh, it's been great. We were looking around at a few labels and they were definitely the most fitting. They're just this small, one floor place, you know. It was a lot like we were making a deal with our friends there.
MS: So I see that your guitar choice has changed, any particular reason?
WK; Well, I went into town to buy a new guitar for this tour, and I saw the one I was playing tonight and was like "That is the one." I got it down and played it and it felt really great, and then I thought, "This looks very familiar." Then I looked on the back plate and it was engraved with the words "Wayne's World." It is the same guitar in Wayne's World. It is a collector's item that isn't worth anything.
MS: Time for the obligatory question, what are you listening to right now?

WK: Uh, nothing really. I mean, I don't even have a CD player. I guess, if anything, I'm into this band called Puzzle. They're from Liverpool and they're really good. If you like us, you'll like them.
MS: What is the music that influenced you when you were young?
WK: Nirvana, obviously. I bought Nevermind and In Utero on the same day. At first I loved all the hits, "Smells Like Teen Spirit" and "Lithium." I hated "In Bloom." I love "Drain You."
MS: You've played in Russia before. How was that, especially with the name "… Boris Yeltsin"?

WK: Oh man, that was like, the most nervous I ever was for a show. We were playing at some festival. I'm pretty sure we only got invited because of our names, but it was good. There were people holding signs and everything, that doesn't even happen here! It was cool, we went to see the preserved body of Lenin. His moustache was like, the realest thing I've ever seen. The guards yelled at me though. I got in trouble though for having my hands in my pockets, some kind of security measure and it's impolite. Haha, Phil got in trouble too. He was laughing.
MS: Thanks so much for the interview, but just a couple more questions we need to know. Robin Williams. Shaquille O'Neal. Both are geniuses. Both have played genies. Who's better?

WK: (Thrusting his hand into the air) Kazaam!
MS: Great! And would you consider corncob pipes to be a refined tobacco-smoking product?

WK: I'm going to have to say yes, but only because some guy in Southern Hills, the band that opened for us last night, was smoking a pipe. It was pretty cool.